ECU Remapping/Chip Tuning Info Guide
We specialise in custom remaps, ecu remaps, engine mapping, diesel remaps, diesel tuning, engine tuning & performance chip tuning for all models, Alfa Romeo 145, 146, 147, 155, 156, 159, 166, Brera, GT, GTV & models not listed.
Our Alfa Romeo remap & performance chip tuning procedure allows us to modify the data onboard the ECU to give you better performance, better mpg & an all round better drive.. The procedure for remapping your Alfa Romeo model (post year 2000) involves a 'read', 'modify' & 'write' process to & from the ECU via the OBD/OBDII port. Remapping your Alfa Romeo means we modify various parameters relative to your model (e.g. ignition timing, boost & torque curves, air intake & fueling etc.) to enhance performance & driveability. The modified engine data is fully pre tested & verified to guarantee that it is reliable & within safe levels of your vehicles capability threshold.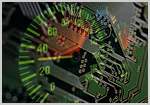 On earlier Alfa Romeo models (pre year 2000), we need to remove the ECU from the vehicle & carry out the 'read', 'modify' & 'write' process, this is referred to as chip tuning (chiptuning, chipping). Removing the ECU from your car is fairly simple depending on the model, once removed we carry out the de-soldering of the chip (eprom) from the ECU mainboard to 'read' the stock data from it, 'modify' it (as described for remapping above), 'write' & re-solder it back onto the ECU mainboard. Leaving just the refitting of the ECU, the OBD/OBDII diagnostic & finally a road test of your fully remapped/chipped Alfa Romeo.

For a naturally aspirated (NA) Alfa Romeo engine, a performance increase of upto 15% can be seen. Our turbo petrol & turbo diesel tuning gives your Alfa Romeo a gain of upto 30% more power allround. The highest gains are ofcourse on Turbo models, petrol remaps or chip tuning gives an equal amount of horsepower & torque, the bigger the turbo the greater the increase. As for our Alfa Romeo diesel remaps, these give you the increase in horsepower & torque with the benefit of better mpg (typical gains of 3 - 6 mpg, approx 40-70 miles extra range on full tank of fuel). Alfa Romeo Economy mapping (eco mapping) is available for common rail diesel engines.

The performance gains for both remapping & chip tuning (chiptuning, chipping) your Alfa Romeo is the same as one another, the only difference is the process carried out to achieve this.

We also offer Stage I, Stage II & Stage III conversions on specific models, why not contact us to see what is available for your car. Our highly skilled technicians carry out full OBD/OBDII diagnostics before and after remapping your Alfa Romeo. Full visual & electronic diagnostics are carried out before any ecu software install takes place.
http://www.dcptuning.com/car-ecu-remap-engine-mapping-chip-tuning-alfa-romeo.html
Автомобиль все еще дожидался американца.
Самое бесстыдное из того, что вы натворили, это то, что вы отняли у них историю.
К счастью, это был крепкий хлыст с тяжелой кованой рукояткой.
Тот, стоило нам захотеть, приводил с собой трех девочек-сестер.
Какой бы товар вы здесь ни купили, к нему непременно будет приложена бумажка, сообщающая покупателю, что он сделал самое лучшее приобретение в мире, с чем его можно только поздравить.
Римо расхотелось с ним дружить и пожимать руки.
Última atualização (Ter, 22 de Outubro de 2013 17:59)